Who is this SWM and Why is their SuperDual exciting news for Indian adventurer tourers?
Is SWM to BMW what Adibas is to Adidas?
No, it's not a cheap knock-off. In fact, SWM is like the Lucky Ali of off road motorcycling.
It was once very popular, albeit in limited circles, before it went off the scene.
The Milan based manufacturer of off-road motorcycles manufactured off-road focussed bikes in the 70s and 80s before it went into unfortunate liquidation in 1984.
So, what does SWM stand for?
Some Say it is Speedy Working Motors. We think it is most likely a synthesis of 'Sironi Vergani Vimercate Milano'. Piero Sironi and Fausto Vergani were the people who founded SWM in 1971.
Ah, it's a thoroughbred Italian?
Well yes, they are manufactured in Italy but its resurrection in 2014 was funded by the Chinese entity, Shineray Group. And currently the SWM motorcycles are being manufactured using earlier Husqvarna engines, before Husqy was acquired by KTM from BMW. So there is some German tech leftover too.

erm… forget the family tree, who is going to sell it in India?
Kinetic-owned premium motorcycle initiative MotoRoyale, which also sells MV Agusta bikes in India is bringing the SWM SuperDual T to India. MotoRoyale are expected to get SWM Motorcycles in India by October.
Why does it excite us?
It is not over the top:
You don't need 100+Bhp's on our road-rash inspired highways
You don't need to deadlift 200+Kgs of a dropped bike on AMS inducing mountain trails,
You don't need to sign off the rest of your corporate slave life to a INR 10+Lakh loan
You don't need the BMW R1200GS, yes, I finally said it. It is time to move on from the wet-dreams of the 1200GSA.
It has got lineage in its favour:
The SWM SuperDual T's 600cc single cylinder engine is based on the engine from the Husqvarna TE 630, which was derived from the G650GS. While that might seem dated, it at least has good genes. Also, this is the closest you can get to your GS dreams, given the budget.
It is not an imposter when it comes to the adventure tourer badge:
The stock bike is ready for adventure and the off-road pedigree is obvious. The bigger 19 inch front wheels to tackle the bad stretches is the first sign of that. Add to that, ample ground clearance of 180mm, and you are all set to tackle the off-tarmac sections.
Also Read: Motorcycle monogamy is a myth!
The frame, suspension and most importantly the weight (169kg dry) is fairly offroad ready, unlike the upcoming Binelli TRK 502 which weighs north of the 200 Kg mark. The SuperDual makes its peak torque of 53.5 Nm coming in low at 6,500 rpm hence doesn't require you to rev it to a high powerband. That is not all, the suspension comes with preload, compression and rebound adjustment, hence leaving room for you to tune it when leaving or re-entering smooth tarmac. Smaller bits like the windscreen for highway blasts and even the skid-plate comes stock.
Will not turn you into a bonded labourer for life
The rumoured pricing seems to be around INR 5.5 Lakh ex showroom. That is great value for money, at least until the KTM 390 Adventure rides into the scene. The other available tourer in this range that comes closest is the Kawasaki Versys 650, which is firstly more expensive and secondly is very road biased.
What we need answers for..
Will service and maintenance be a pain?
Word on the street is that it has a 5000 km service interval, we may be wrong, but we would like an adventure tourer to not need such frequent time outs. Also, it will be interesting to see how MotoRoyale handles the service centre network. Since its current stable includes the elusive MV Agusta models, whose requirements of accessible service might not have been tested yet.
Will the seat height drive away modestly sized Indians?
At 890mm the SuperDual's seat height sits really high. To give some perspective here are seat heights of some bikes for comparison, the Himalayan sits at  800 mm , the Hero Impulse – 835 mm, the Africa Twin – 860mm. It will be interesting to see if the suspension settings could be made soft enough for the resultant seat height with rider on board reduces substantially.
Will the slightly older big single be vibey?
Single Cylinder engines are known to vibrate more than twins due to the lack of counter-balancing that the second piston provides. Because of the slightly older architecture of the 600 engine is there a possibility of there being some vibes? We would like to comment on the smoothness or lack of it only after having ridden the bike.
To close, we would like to know from you..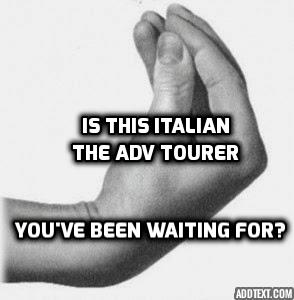 Tech Specs RoundUp –
Engine:
Single cyl 600cc
Fuel Injected
54.4 PS at 7,500 rpm
53.5 Nm at 6,500 rpm
6 gears
Tank capacity:
18-litre
Wheels:
19-inch front
17-inch rear

Ground clearance
180mm
Seat Height:
890mm
Weight:
169 kg (without fuel)
Suspension
Front: USD fork with rebound damping adjustment, Travel- 210mm
Rear: Monoshock with preload, compression and rebound adjustment, Travel- 270mm
Braking:
ABS as standard, Brembo units
300mm single disc in the front
220mm disc at the rear
So, that's all about the SWM for the moment. We are itching to ride it as soon it lands in India and share our review of it. Till then let's dream about it in unity.